News
New: PHASE Associates Newsletters
NEW: OSHA's Voluntary Protection Programs (VPP)

The proposed legislation would denote a long-term commitment to OSHA's program, which recognizes worksites that achieve exemplary occupational safety and health performance. To be accepted into the program, worksites must implement safety and health management systems that yield below-average injury and illness rates. Successful worksites involved in VPP then gain exemption from certain OSHA inspections.
PHASE Associates
has experience with providing support for firms seeking initial and renewal
OSHA VPP
approval certification.
NEW: NIOSH Buy Quiet Program
Buy Quiet
is a program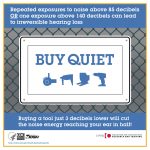 to help companies reduce worker noise exposure by encouraging companies to purchase or rent quieter machinery and tools. Noise induced hearing loss is one of the most common work-related illnesses in the United States. Learn more on how 
PHASE Associates can evaluate your noise exposure
.
Board of Examiners of Electrical Contractors
PHASE Associates (ECSP 193) is approved to teach the following courses:
Electrical Safety Awareness
Lockout/Tagout
Arc Flash and Electrical Safety Awareness
PHASE Associates obtains a New York State Mold Assessor License
PHASE Associates, LLC is pleased to announce that we have obtained a New York State Mold Assessor license. We have qualified Mold Assessors who took the mandatory class and have been licensed as Mold Assessors by the New York State Department of Labor. Please contact PHASE Associates with any questions or to obtain a quote for service. We can be reached at 973-597-0750 or gary@phaseassociate.com.
AIHA Mold Resource Center
Consumers and professionals can learn fast facts on mold, the potential adverse health effects of mold exposure, why remediation and prevention is important, what to do if you are victim of an indoor flood, and where to find help to prevent mold infestation.
AIHA Mold Resource Center (click here.)